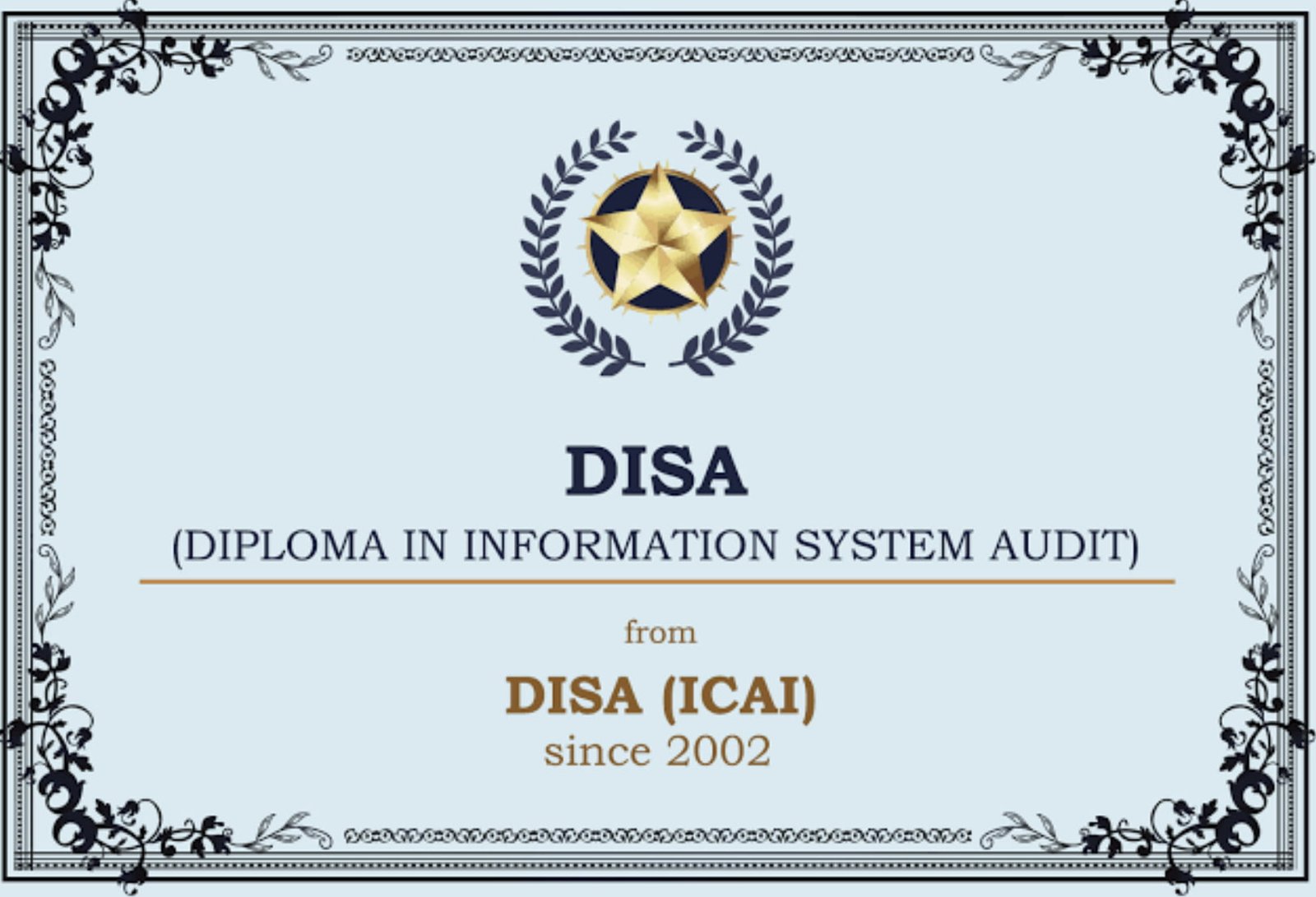 DISA by ICAI is Diploma in Information Systems.
Contents of DISA by ICAI
Introduction
What is disa or what is disa full form?
Many people ask the difference between DISA and CISA
How to prepare for the DISA Exam
What is Course Curriculum for the ISA course
How to become Qualified
1. Introduction
Technology plays a major role in facilitating all functions of business in this era, not just in transaction capturing and processing but even in lesser known areas like Corporate Governance and Risk Management. Many businesses heavily rely upon digital systems. This will enhance the risk of fraud and forgery. Due to this DISA qualification has good value today. Many Chartered Accountants are opting for doing DISA after clearing CA exams. It opens up opportunities to provide IT risk advisory for Chartered Accountants.
2. What is DISA by ICAI ?
Full form of DISA is Diploma in Information Systems. Its a course offered by ICAI.
Diploma in Information System Audit, the disa course is offered by ICAI with the objective to enhance professional skills of its members. It is a Post Qualification Course. This course prepares members to offer services in the area of information security & business continuity which are relatively new avenues as compared to traditional practice.
For Internal Audits, audit firms with DISA qualified partners are preferred by the organisations.
RBI, SEBI and IRDAI has already mandated annual system audits of all banks, broking house and insurance companies.
Members in employment also benefit from diploma as it is in demand in employment also. If an employee's work profile involves dealing with systems extensively to get your work done such as systems audit etc then he should consider doing DISA. If it involves use of basics such as Word, Excel, Power Point etc then it will only add value to his knowledge and resume.
---
3. Many people ask the difference between DISA and CISA
DISA is diploma course on systems security and audit issued by ICAI under the license obtained from ISACA whereas CISA is a certificate course on systems security and audit issued by ISACA based in US. CISA is global recognised certification for system audit and for that matter DISA is certification from the ICAI institute itself hence restricted to India and neighbouring countries. As far as content is concerned both DISA and CISA are similar. DISA course is known to be the smaller version of CISA course hosted by isaca. Its a general notion that passing DISA course would let you know the eligibility /possibility of you passing CISA exam.
DISA can be done by a member of ICAI however CISA is open to all which means CISA can be done by CA aspirant but not DISA
CISA is a globally recognised course while DISA being specifically seen as instrument to get bank audits. As per the members who have done both courses, Once one passes CISA, DISA is relatively easy to achieve. We are also told that DISA is more inclined towards CA profession has inclination towards attestation, assertions and supporting CA profession whereas CISA is has broader base and goes deeper in technology dimensions as well.
Cost of DISA is lower than CISA. If you want to work only in INDIA then the DISA certification will suffice.
There is also a view that ICAI has already included portions of DISA into the CA course at Intermediate and Final level along with the compulsory ITT training. Therefore it is not much of use to do DISA separately for a new CA. But it is their personal view which may not be true.
---
---
4. How to prepare for the DISA Exam:
Read your study material. although it is lengthy and boring, this will give you the gist of your course coverage.
Practice a lot of questions.
Refer institute's DISA question bank.
---
---
5. What is Course Curriculum for the DISA by ICAI
The course curriculum for the ISA course is divided into eight modules as under:
1. Primer on Information Technology IS Infrastructure & Emerging Technologies
2. Information Systems Assurance Services
3. Governance & Management of Enterprise Information Technology, Risk Management and Compliance Reviews
4. Protection of Information Systems Infrastructure and Information Assets
5. Systems Development: Acquisition, Maintenance and Implementation
6. Business Applications Software Audit
7. Business Continuity Management
8. Information Systems Audit Process
9. Governance and Management of Enterprise Information Technology, Risk Management
10. System Development, Acquisition, Implementation, Maintenance Application System
11. Information Systems operations and Management
12. Protection of Information Assets
13. Emerging Technologies
---
---
6. How to become Qualified
1. Course registration.
2. Course fee payment.
3. Payment of fee is subject to cancellation charges i.e. 10% of gross fee paid, in case the cancellation request is placed by the participant before starting of batch.
4. Payment settles and gets approved in 24-48 hours.
5. Access to ISA course 3.0 E-learning (No License Code Required) is freely available at Https://Learning.Icai.Org/Committee/Digital-Insights/Information_System_Audit_Disa_30/ & it could be completed anytime.
6. Complete E-learning Assessment Test which will be enabled after successful completion of 08 Chapters of e-learning thereafter apply for the desired batch at PQC portal after passing E-learning test .
7. Apply for the batch as per location preference in case of physical classes only. Go to Forthcoming Events->ISA PQC ->View Details->Select Batch->Apply Batch.
8. Apply for the virtual batch at PQC portal as per the available timing and join sessions at DLH portal of ICAI for which SSP login is mandatory.
9. Virtual batches comprise of 18 days of Professional Training sessions whereas, Physical weekend batches comprises of 12 days of Professional Training sessions.
10. Minimum attendance required to successfully complete ISA PT is 90%.
11. Candidates enrolling for ISA ET for the first attempt will not pay any exam fees whereas, for all the subsequent attempts they need to pay Rs 500?-
12. ISA Assessment Test (ISA AT) : The ICAI conduct ISA AT. The forms for the same you can found at www.icai.org. The queries regarding the ISA AT / Result/ Certificate will be dealt by the Examination Department at 01203054842/36. In case of further queries, you may please drop mail at isa_examhelpline@icai.in.
For any doubt feel free to DM us on our INSTAGRAM platform (105k plus family )
Click here to Redirect to our Test Series page for CA Students