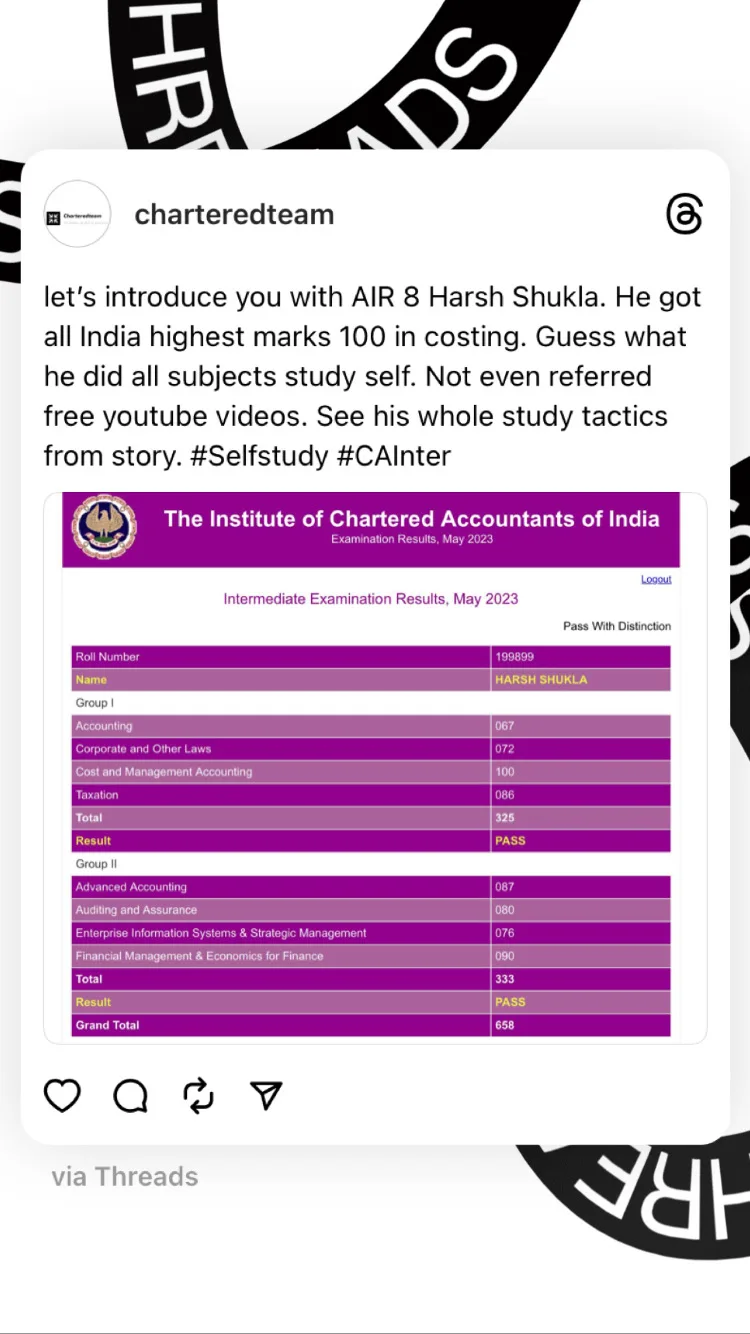 CA Inter Self Study and Rank
CA Inter Self Study and Rank. Yes completely possible if you follow a right approach.
Here we will discuss the tactics followed by AIR – 8 Harsh Shukla. May 23 CA Inter attempt.
Total Duration of CA Inter self study
6 months he took for whole 8 subjects self study. With a consistent 8-10 hours. Harsh even took break during Sundays for 3-4 hours.
Study pattern
Harsh preferred 1 subject at a time and took the target to finish it in 10 days. Then next revision for 7 days then next revision of 3 days. He believes that the flow is best with a single subject target to study without disruptions. Shifting to other subject may make you again think about your past flow here you waste your 10-15 minutes for single shift of subject.
Study Material
Harsh referred total ICAI material. ICAI latest edition Modules, RTP, MTPs and Amendments supplement are the total material to refer for whole CA Inter self study to achieve the Rank.
Subject wise Strategy
Lets get the whole subject wise strategy by his own words 🙂 –
Ca inter All subjects self study
Do ICAI module and give previous year question papers
Study 10-12 hours consistently
Take break on sundays
For 3-4 hours
If studying on Sunday
Then study for 8-10 hours
Take 6-7 hours of sleep
Revesion is the key
Revise the syllabus at least 3 times
Eis
Try learning the headings
Very important andar kuch bhi likho
Bs jyada se jyada
Learn kro heading
Sm m bhot jordar hack h
Questions bhi likho
Questions likhne k 2 marks tk hote h
Answer m
In case study
Cost
M aap koshish karo previous year question paper krne ki
Or fm eco m hack
Mtp -1 and 2 Jo aaye the is sal kafi unme se hi aa gya
Cost m aap sare icai module k questions kro
Phir pyq karo
Rtp Mtp
Accounts m
Aap hamesha ICAI module k bad usi chapter ka RTP karo
Or usme time management is very important
Paper is very lengthy
To give paper with timer
Tax m statutory update icai ki website ka gst m more than half paper from statutory update
How about maximum subject a day to study ?
Only one
Me pura concentration
Se ek hi subject padha
Lekin 1 theory or 1 practical ka mix is also good
Jyada se raita fel jata h
Sab revise ni ho skta Rat m sone se phle.
Try giving as many previous year question as possible after you complete your subject
To check wether what you study is coming in exam or not
I wrote 4-5 tests for practical subjects and 1 for theory subject test
Ca is all about revision of study mat
last Tip
Bs consistently padhna chahiye
Hmesha
Km padho but revise kro
You will score
Class 12- 99%
CA Foundation-356/400
CA Intermediate- 658/800 (AIR 8)
CA Intermediate Result were declared today.
Cleared it with 658/800 (With 100 marks in Cost And Management Accounting).
My Foundation results were declared on 10 August 2022.
A small checkpoint cleared today, many more to come.
I would like to add that I took no coaching whatsoever for CA foundation or CA Intermediate. (not even youtube lectures.)
Wish you all the best 🙂