Study routine for self study
Study routine is very important for the success. Behind every successful person there is an advance planning.
If you are a CA student or CS , CMA, ACCA student then you need at-least 12- 13 hours study routine to revise syllabus properly.
Some points to take care during study routine-
Take care of your health by spending few minutes in exercise
Take light and healthy food. Avoid late night food to stay active and to avoid sleepiness.
Don't ever sleep between 2-5 noon. That will be your exam timing so make sure to study very crucial topics during that time and stay most active to develop good habit.
If you are feeling lazy all time then have tea coffee at right time, take light food, study with advance planning. Don't just study out of your mood swings.
To get into flow in anything , you need to be disciplined. Be it a gym workout or any sports activity you can see at the beginning mood will not allow you to go but with the discipline you can see great results over the time.
You don't need motivation for success but you need discipline.
Study routine you can customise your own too the main thing is to stay consistent and disciplined. So identify your best timing and stay punctual on it.
Following things to keep in mind while making routine –
Study hard topics when you are most energetic and that is morning time.
Costing subject don't study during night. This subject need more focus on understanding question. So morning time is most effective for that.
Night study for most students is effective till 2 AM, after that mind works too slow so better to sleep and study rocket speed by morning time.
Keep snacks with you if you feel more sleepy all time. This will keep your mind all time active.
Walk and study theory subjects.
Keep your desk small. Keep the book you study on desk. This will reduce your study burden.
Make self notes and summarise material for 1.5 day revision time.
Study Routine for Night Owls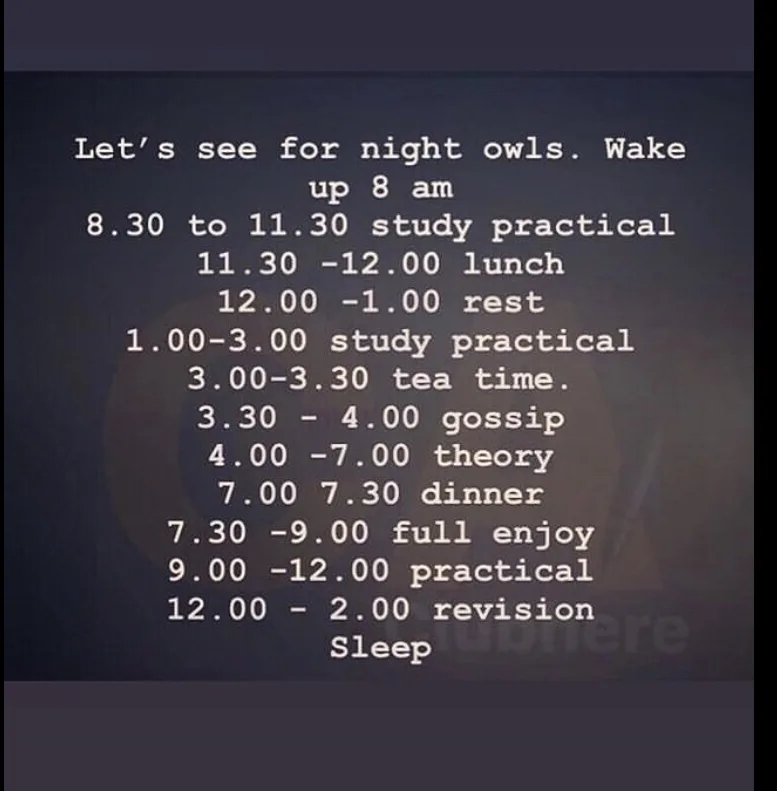 Study Routine for Early birds
Study Routine for working students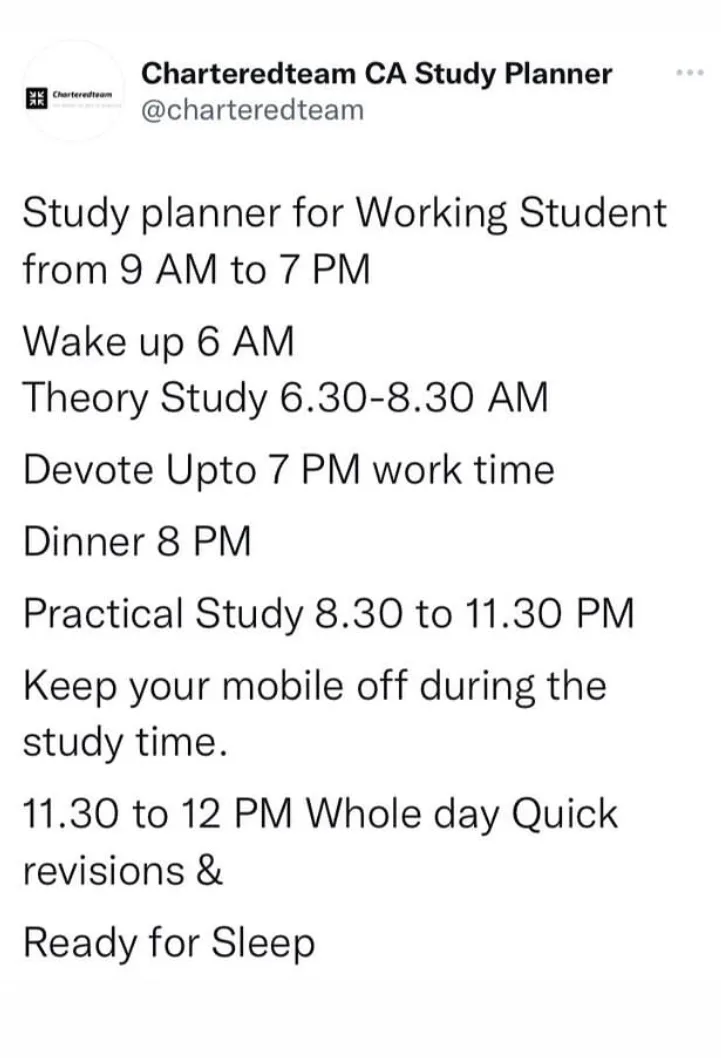 Study Routine for 1.5 day revision
26 hours approx routine
2-5pm – Exam time
5-7 pm – Take a Nap
7-9 pm – Study easy topics and small topics. Finish in quantity with less stress for gaining confidence.
9-9.30 pm Break
9.30-12.30am – Small and good weightage chapters.
12.30-4.30am – Sleep
4.30-8.00am – Big and complicated important chapters.
8-9am – Break
9-1pm – Study
1-2pm – Lunch and rest
2-5pm – Study
5-6pm – Rest
6-9pm – Study
9-9.30pm – Rest & Light Dinner
9.30-12-30 am Study
12.30-5am – Sleep
5-9.30 Study
9.30-12pm – Relax, Bath and Breakfast
12pm onwards – leave for exams – Relax, calm down.
I have also made a reel to adjust time for coaching and college going students. Click here to see that.
To avoid sleepiness during study, click here for tips and tricks.
Now routine is there but what about targets for daily study? Targets are very important. You need to be quick so that during exam time you can revise whole syllabus in single day. So for targets and building such revision habit study max 2 subjects a day for good flow. Because during exam time you are going to study 1 subject whole day only :).
Click here to follow schedule that will help you to complete syllabus for Nov 23 Exams from scratch.
Wish you all the best 🙂