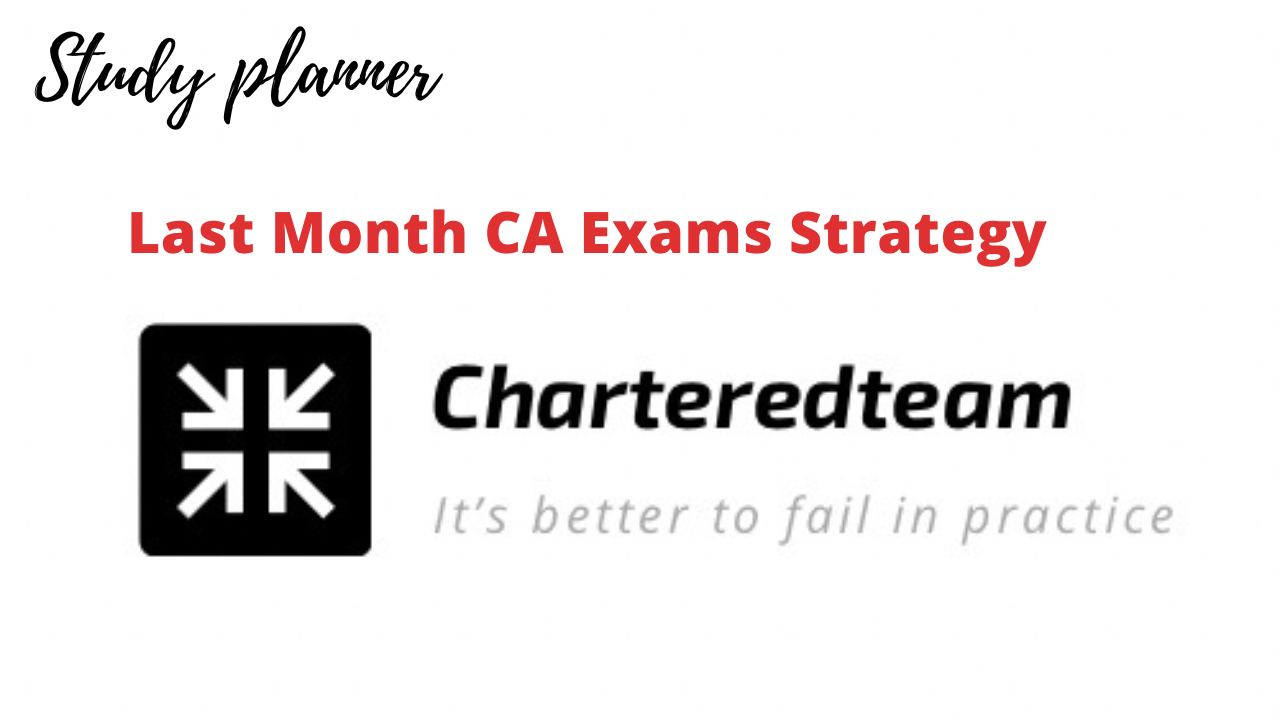 Last Month CA Exams Strategy to Revise Entire Syllabus | Toppers Strategy
Let's know Step by step Last month CA Exams strategy for CA Foundation, CA Inter & CA Final Students.
Last Month CA Exams Strategy for CA Foundation
CA exams are considered as one of the toughest exams. It is necessary for the student to understand the concept and theories to make the learning easy and interesting.
We completely agree to the popular saying of Aristotle
"For the things we have to learn before we can do them, we learn by doing them".
Following the above said golden rule, we suggest the student take lots of RTP, SM, provided by ICAI and do also practice Test Series
Download ICAI applicable CA Foundation latest study material.
We assume students must have got a proper understanding of their syllabus when only one month is left in the commencement of exams.
We hereby suggest you few strategies to be adopted during last month of examination For Foundation Level
Read your theoretical notes again properly.
Keep yourself hydrated, drink lots of liquids.
Keep yourself calm and don't panic if you are missing your syllabus
Take help of friends who have read the part of the syllabus, you are missing
Keep practicing problems from Sample Papers and Test Series.
Cover Important Topics first from each subject. Click here for ABC analysis.
Timeline for Last Month CA Exams Strategy & Preparation for CA Foundation
5 days
Revise the theoretical notes made by you on definition, explanation, theories
Keep cue cards for ratio, formulas and rate slabs to be able to view when and wherever you want.
Practice mock test paper of syllabus, you are least confident of.
10 days
Practice last year question paper
Revise ICAI study material for CA foundation
Do RTP and STP from ICAI website
15 days
Download the CA Foundation admit card and take a print out
Take adequate sleep
Eat healthy food and drink lots of water
Practice more
20 days
Revise the theoretical part again
Revise all the important definition and laws
Practice the harder question again
25 days
Be confident about your knowledge
Google or talk to your teacher or mentor and understand, the part of syllabus you are still least confident about
Our personal suggestion for the last day is to keep yourself happy and excited about the exams. The confidence in your knowledge is what matters rather than the marks you will obtain
If you have understood whatever you have read, it will l be enough to execute it on your paper and score some marks.
We wish you all the best and
Keep yourself healthy and presentable
Last Month CA Exams Strategy for CA Inter & CA Final
In this last time you should make your revision strategy more carefully. Here are some tips and strategies that are required in this situation for all level of students:
Confusion in Selection of Single Group or Both Groups
If you are really confuse at this stage for selection of group, then select both groups and prepare one group more strongly and other group you can prepare average to gain the setoff or exemption benefit. If are not at all prepared for both groups then simply prepare for single group and start study making a sound plan and practice.
Make a Proper Study Plan

for last month CA Exams Strategy
Once you are done with the confusion of selection of Group, Next Important thing is to make a proper Study Plan and following it duly. Preparation of Study Plan can cost you few minutes but it is going to save your many hours
Some important tips while preparing Study Plan:
Divide your time to the subjects according to your capability and knowledge skills.
It would be better if you study one or two subjects a day and complete subjects one by one. This way you'll have the feeling of satisfaction that at least you have finished something. As day passes the stress too increases and if you will be picking all subjects a day it will result in more stress and feeling of not completing anything. So better finish one by one subject and have a good flow of speed.
Most importantly, leave minimum 5 days before exam date for the revision of first exam. Your first exam need to be super awesome.
Make a combination of Practical and Theory subject diligently. Don't stick to theory for whole day. Practice some questions of any practical subjects in between. Sticking to theory for whole day can lead to low effectiveness and might make you sleepy.
Atleast 14 hours of study is required daily at such crucial time. Click here for study planners for Early birds | Night Owls | 1.5 day study
Give some time slot for rest in between to freshen up the mind. Ideally, Rest slot should be maximum for 30 minutes and not more than 4 times in a day.
Get
Familiar with Exam Pattern
Firstly, know about the exams pattern for each subject and understand the marks weightage of Subjective and Objective type (MCQs). Papers like Law, Audit, Direct Tax and Indirect Tax for Final Examination has 30% marks weightage in MCQ.
So, It is advisable for students to practice MCQs, so as to score full 30 marks in MCQ and chances of getting exemption can increase. You can go through the previous exam papers, or Revision Test Papers and Mock Test Papers to understand the Exam Pattern and the level of questions ICAI has set for each paper in every attempt.
It is to be noted that in previous Exam papers, questions for MCQ cannot be found.
Latest or Updated Study Material for Revision
If you have your own hand written notes covering every topic, then that is the best resource for revising that subject as it will help you to regain that topic more quickly and easily. But If you have don't your own hand written notes, then second best source material is the book/notes from where you had earlier studied or had taken classes from. Don't switch to some other book which you have never read or gone through earlier at this crucial time. For practical subjects such as Accounting or SFM or SCM, you can take ICAI Latest Study Material and must practice all questions given in it thoroughly.
Prepare at least two Subjects for exemption
You should prepare in such a way that at least two subjects can score you exemption. Everyone has some strong or weak subject. Try to prepare your strong subject for exemption as it can help you to maintain the aggregate even if you score passing marks in your weak subject. Even, in worst case, if you could not clear your exams, exemptions can give you relief in the next attempt.
Make Short Notes for last 1.5 day revision
This is an important thing to be done while revising any subject, whether it is a practical or a theory subject. Always make a short note by your hand while you are revising a topic. Don't just go and read the topic. Write all the important words or sentences in a short manner in a separate piece of paper.
Making short notes can help you in several ways.
It will help you to revise quickly during exam time.
It will make you recall the sentence or important words more quickly while giving exam.
It will help you to increase your writing speed.
Must cover Amendments

during your Last month CA Exams Strategy
ICAI always provide latest Revision Test Papers (RTPs) to all the students who have registered themselves for exams in the upcoming attempt. These RTPs covers all the amendments which are applicable to students for that attempt. Do not ever forget to cover the amendments mentioned in the RTP. Also try to cover the previous RTPs for amendments if not covered by you earlier.
Click here to access ICAI Revision Test Papers
Writing Practice till the last day of Exam
For Practical Subject, it is important to practice as many questions as you can by solving it by hand. Do not ever orally just revise the solution. If you had solved the question with your hand earlier, this is going to help you during the exam time. You will be able to recall that solution with proper steps. Revising solutions orally is just a waste of time.
Must attempt Mock test papers conducted by ICAI too. One should be very obedient of limited 3 hours' time while giving test series sitting at home.
It helps a lot at the time of giving exam. Here's how:
It will help you in identifying your own writing speed and that way you will be effectively completing the main exam on time.
It will help you in understanding exam pattern and make you familiar with it.
Tests will help you in practice extra questions.
Minor mistakes give big loss of marks. By identifying your areas of mistakes you can save yourself with such big loss of marks.
It will help you in identifying your preparation level for each subject and making you enable to form out a strong strategy for 1.5 day revision.
Click here to get our systematically designed test series for this purpose.
Cover Important Topics in each subject
Always try to cover important topics first while revising for the exams for each subject. This will help you at a time when even if you are not able to cover 100% subject, you have a grip on important topics from where there are maximum chance of getting a question in an exam. This increases the chance to clear the exams by scoring well.
Click here for ACB analysis for CA Inter Students
Everything is important for CA Final Students so must cover each topic.
Learn Important Section Numbers
It is equally important to learn important section numbers, SA Name and Numbers, AS or IND AS Name and Numbers and writing them in exams. But if you are not able to recall the number or name, do not write the wrong one. ICAI expects this from Final Students especially.
Last but not least Take Proper Sleep
Do not compromise with your sleep. It would cause harm to your health and would disturb your whole study plan. A normal 6-7hours' sleep is required to rest your body and brain. Always take out this much from your study plan. Either plan your sleep in one go or in intervals as per your convenience. Taking care of your health is equally important while preparing for your exam.
This is how you can make a strategy for preparation of upcoming exams in just last 1 month. I hope you find this article helpful. Wishing you all the good luck for your upcoming exam.
Check out last month CA Exams Strategy from a CA topper itself 👇🏻