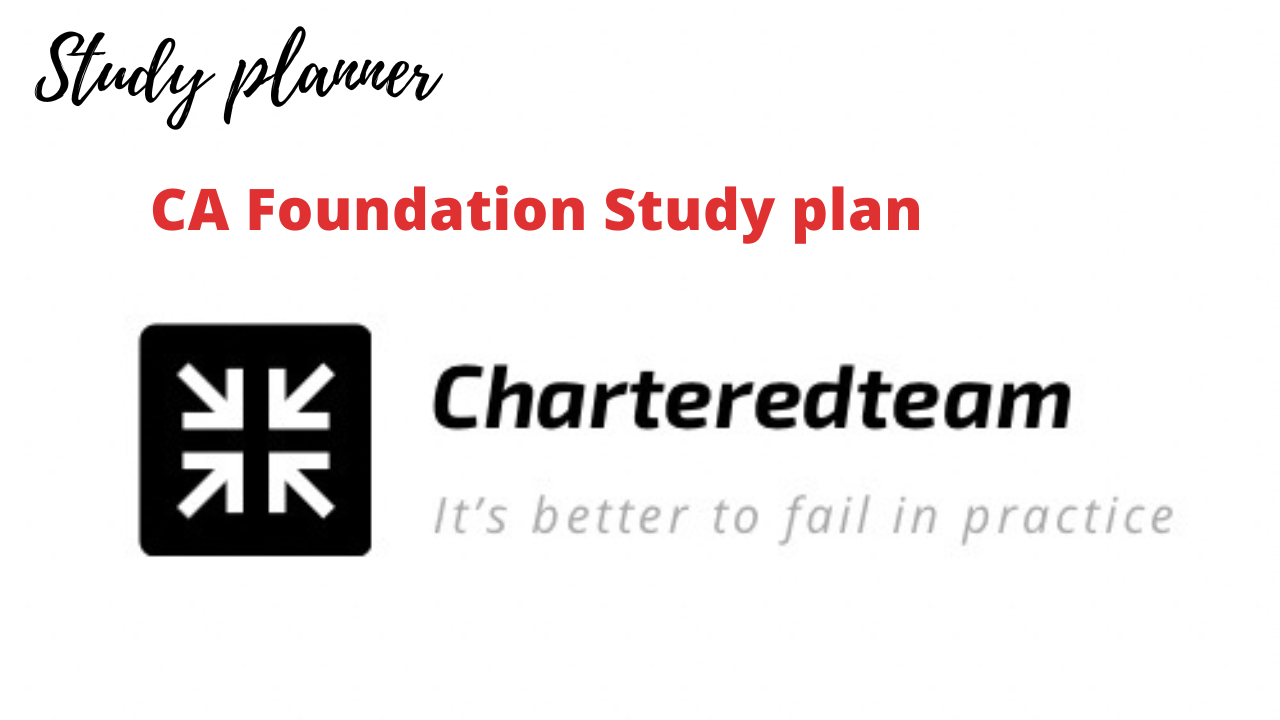 CA Foundation Study plan at this time to complete the course effectively.
The challenges that most CA Foundation students face are course completion, time management, and knowing how to divide their attention between subjects as equally as possible. Since A perfect CA Foundation study plan can address all these challenges and more.
In this guide, we significantly discuss some practical CA Foundation study plan tips that will set you up for success. If you are a CA Foundation repeat student, we have a separate section for you because your approach and preparation strategy should be different from CA Foundation beginners.
without delay Let's Start it !
CA Foundation Study Plan specifically for First Time Students
You must be confused right now as to how to start your preparation.
If you even confuse with registration process then click here
Here are some equally important tips that will give you the right way-
The World War II leader and U.S. President Dwight D. Eisenhower and also supported by Einstein
, 'Plans are nothing. Planning is everything."
"Give me six hours to chop down a tree and I will spend the first four sharpening the axe."
― Abraham Lincoln
Like you all have a plan in your mind to become CA. But if you are not planning to fight with all challenges seriously your plan will be a waste. So Planning is a crucial process where you need to act immediately and walk towards the goal.
The planning begins by familiarizing yourself with the CA Foundation syllabus and subjects. Spend some time reading the syllabus. Understand which subjects are practical and which are theoretical. Look at the weightage given to each topic.
Figure out how many hours you should study
The most crucial consideration in your CA Foundation preparation is time.
How much time do you need to finish your syllabus?
How much time should you dedicate to revisions?
How much time to keep aside for mock tests? That you can practice same time with study too from here.
These are the top three questions to keep in mind when planning your CA Foundation study plan.
Don't get stressed by what you hear. Some people might be studying for 11-12 hours. Or, others might be studying only for 6-7 hours. What really matters is what works for you.
Build your own suitable timetable
You've probably already come across a bunch of CA Foundation study plans and timetables on the internet. It's best to not fall for them if they are not suitable with your own timeline.
We have prepared various timetable as per the different timelines of various students. Click here to refer them and make accordingly your suitable customised Time Table.
Writing practice is the success key for CA Students so write more and more
When it comes to cracking your CA Foundation exams if there's one master tip that will make a world of difference is this: Self-written notes.
In fact, the practice of writing your own notes is something that will help you immensely not only in your CA Foundation level but in the Intermediate and Final levels as well. No wonder it's a skill worth building. And, you'd do yourself a huge favor to begin now. Explore these effective note-taking methods and see which one you prefer the most.
CA Foundation Study Plan Tips for Repeaters
If you haven't been able to crack the foundation exams on your first attempt, there's no reason to lose heart. You can do it. The key lies in identifying the weak areas in your preparation and working on them.
First of all, the tips we have given to first-timers are applicable to you too. Give the previous section a read and see if you missed out anything in your last preparation. For example, if you skipped revisions, that's something you have to fix this time. If you didn't make your own notes, start doing it.
Studying what you like or are naturally good at can help you feel motivated. We get that. But, you need to work on improving your weak areas. Otherwise, you might end up making the same mistake you made in your previous attempt.
If you're in your third or even fourth attempt, it's worth doing a mental audit to figure out the reasons behind your failure —
If you are stressing a lot while studying for CA Exams?
Or, No joy feeling while you study.
If you are preparing it in fact as a burden feel?
Or, Have you been putting in less effort?
Your preparation has been falling short?
Or, you're simply not enjoying the subjects?
If you are reading it till now that means even you are not enjoying the study but you desperately want to clear it. So start enjoy the study firstly.
More CA Foundation Study tips especially for Exam Success
Make sure to strike a balance between studies and other areas of your everyday life.
While being diligent and disciplined with your timetable is great, it's also important to make sure that you enjoy some breaks. Have some free time in which to practice some light hobbies. Without such time-offs, your performance can suffer.
Be realistic in your routine. Studying for 10-12 hours can be okay — even needed — for short spells. But such long hours are not sustainable in the long run and may result in burnout. Instead, start your preparations early and maintain a study routine of 6-7 hours daily.
It is not humanly possible to be constantly motivated, but you can take steps to keep your chin up throughout your preparation. A great tip is to set rewards for small wins. For example, if you finished a chapter on time, treat yourself to a meal at your favorite restaurant or watch a movie.
Motivational videos can give you the right push when you need it. But if you spend too much time watching these videos, when will you have the time to apply what you're learning from these videos?
Further Balance is everything. The same goes for especially social media. We are not here to tell you to let go of your social media habits and put a curb on phone time. But you need to make sure it doesn't hamper your preparation.
Identically we have Two Study Approaches for CA Foundation Study Plan
Identically two approaches that can help you to channelize your energy and time in a proper way to make success inevitable.
The first deals with psychological balance which evidently helps you, to keep yourself positive and focused throughout your study period.
The other approach is more practical, which analyze the subject, course, assessment pattern and infuses your study time, accordingly.
Further Download: The Latest ICAI CA Foundation Study Material
The First Approach for CA foundation Study Plan to Maintain Physiological Balance :
The 5 Must-follow Advices While Preparing for CA Foundation
Firstly, let's discuss how to prepare for CA foundation by maintaining physiological balance throughout the course.
1. Regular Exercise
Indulges yourself in some physical activity for 15 min a day at this time. Being consistent with 15 min workout is sufficient time to boost your energy to a significant level which will surely help to keep you awake for a longer durations.
2. Eating Healthy is equally important
Eating lots of vegetable and fruits would eventually help you in keeping a proper digestive system, and the problems caused by long sitting duration like gaining weight, leg cramps and headaches can be avoided. Likewise Nuts like walnut, almonds help in building a strong memory.
3. Spend regular Time and enjoy festivals with family.
During exam days generally festivals come and many advises not to celebrate and focus on study. But enjoying festival days and spending time with family will actually boost your energy by 10x.
Devoting yourself all the time in your study room may diminish your learning capacity. Spending some time with family and sharing your thoughts, revising chapter with friends surely, helps in increasing your learning capacity and also help you to stay away from depression.
4. Reading Newspaper and Magazine
Reading newspaper, a business magazine or even books by an economist on any subjects on business and economics is an interesting way to keep yourself updated, and this habit will surely make you more confident.
5. The daily timetable for students preparing for CA foundations exams
| | |
| --- | --- |
| Regular exercise | 20 min |
| Eating healthy | 20 min |
| Spending time. with your family | 30 min |
| Reading newspaper and magazine | 20 min |
| Total | 1 and half hour a day |
Once you are in the proper stress free mindset and proper health, half of the battle can be assumed as" already won".
General Tip – To avoid errors in your CA foundation admit card detail (like name, center, medium etc.), you should double check your details before submitting the CA foundation exam form.
The next Approach is the practical one which involves following practice.
Identifying your weak and strong points and in short thereafter managing your time to sharpen your skill in that particular area.
Eventually ICAI has introduced a new learning scheme, which emphasis on developing technical and analytical – Know how to match with international standards. CA foundation exams are held twice a year in the month of May and November.
Click here to get certified copies of toppers to get the idea on presentation strategy.
6 Months Study plan for CA Foundation in detail
We assume student can give daily at least 7 hours to their study timetable which makes 1260 hours for six months, against available 4320 hours. ( 24 hours in a day * 30 days * 6 months)
| | | | |
| --- | --- | --- | --- |
| Knowledge (theoretical) | Application (practical) | Subjects | Time (we suggest to be given) |
| 5%-20% | 80%-95% | 1)Principle and practice of accounting(s) | 300 hours |
| 50%-65% | 35%-50% | 2a)Business laws(s) | 200 hours |
| 100% | | Business 2b)correspondence and reporting(s) | 100 hours |
| | 100% | 3)Business mathematics and logical reasoning(o) | 300 hours |
| 40%-50% | 50%-60% | 4a)Business economics(o) | 200 hours |
| 100% | | 4b)Business and commercial knowledge (o) | 100 hours |
Total numbers of hours for every subject: 1200 hours
Where Principle and Practice of Accounting, and Business Mathematics and Logical Reasoning are subjective papers, and Business and Commercial Knowledge, and Business Correspondence and Reporting are a quantitative one.
We will further discuss how to prepare for the CA foundation in 2 months for practical and theoretical syllabus.
CA Foundation Preparation for Theoretical Part
We suggest students to make at least one register for all the theoretical aspect of the subject.
The theoretical question mainly start with the following below given points.
List?
State?
Define?
Explain?
Recognize or identify?
Classify?
Students should likewise write an answer to such question for all concepts, provision, theories and principle, terminologies under syllabus of particular paper.
Try at least creating a complex problem using verbs i.e. comprehend and explain? Or Identify and Explain for a proper understanding of the subject
Must Solve: CA Foundation Test Series surely for getting familiar with all adversities.
CA Foundation Preparation for Practical Part
We suggest students make specific charts of formulas, laws, depreciation rates, tax slabs, ratios and soon paste it on their wall. The practical subject requires the practice of both complex and non-complex problems on a daily basis.
Solving a lot of CA Foundation model question papers, previous year papers, CA Foundation study material will surely help you to acquire expertise and confidence in your subject.
The application part of every chapter can be questioned with verbs i.e. examine, identify, calculate, reconcile or solve. Students in that case should answer to as many questions of such behaviour, of each chapter.
We are suggesting a 6-month timetable for students that can help them to cover their syllabus of CA Foundation exams in a given period of time.
| | | |
| --- | --- | --- |
| Month | Practical Study | Theoretical Study |
| First month | 60 hours (3 hrs daily for month) | 90 hours (3 hrs daily for a month) |
| Second month | 60 hours (3 hrs daily for month) | 90 hours (3 hrs daily for month) |
| Third month | 150 hours (5 hrs daily for month) | 90 hours (3 hrs daily for month) |
| Fourth month | 150 hours (5 hrs daily for month) | 90 hours (3 hrs daily for month) |
| Fifth month | 180 hours (6 hrs daily for month) | 60 hours (2 hrs daily for month) |
| Sixth month | 150 hours (5 hrs daily for month) | 90 hours (3 hrs daily for month) |
| Total hrs | 870 | 510 |
We suggest every student analyze their own knowledge and behavior and can use this timetable to organize their time, with necessary amendments.
Click here to know the last month CA Foundation Study plan to revise entire Syllabus
Frequently Asked Questions
Q1: Is it also important to practice through previous year question paper?
Ans: Yes, it is unquestionably important to go through previous CA Foundation question papersmock test paper, sample paper, of same ICAI approved syllabus.
Q2: How to study in the first two months of CA Exams preparation?
Ans: We suggest student cover at least their practical part in first two months. This will surely help the student to stay active and build the interest in study. You can refer to the time table given above in this article
Q3: How To study for CA Exams in last 3 month of preparation?
Ans: During this time you have a proper understanding of your subjects and you start the application of this knowledge to solve problems. You should give more practice time during these months. You can refer to the table above for further classification.
Q4: How to prepare for CA foundation in last 2 months?
Ans: Please refer to our article CA Foundation last month preparation.
Q5: How to prepare for CA foundation without coaching?
Ans: Undoubtedly it is possible to prepare CA foundation without coaching. You can refer to the article above for help. ICAI also provide free classes. For this purpose click here to access ICAI free classes.
If you want to know more about CA Foundation overall exam pattern and marking scheme, please read our article CA Foundation ABC Analysis.
Q6: Are mock test papers important for CA Exams preparation?
Let's clear one thing right away. If you wish to clear CA exams in one go, revision and mock tests are absolutely non-negotiable. Without revisions, you are very likely to forget what you've studied previously, especially because the syllabus is so vast.
We have formed a systematic overall schedule for the same. So Click here to follow.
At last I wish you all the best and keep yourself healthy.
---